Cambridge Montessori Preschool is delighted to welcome you!
Montessori nursery, India's best nursery lkg ukg, provides a healthy and happy environment for children to learn, explore, and grow in a warm and caring environment, allowing them to reach their full potential in the company of caring teachers.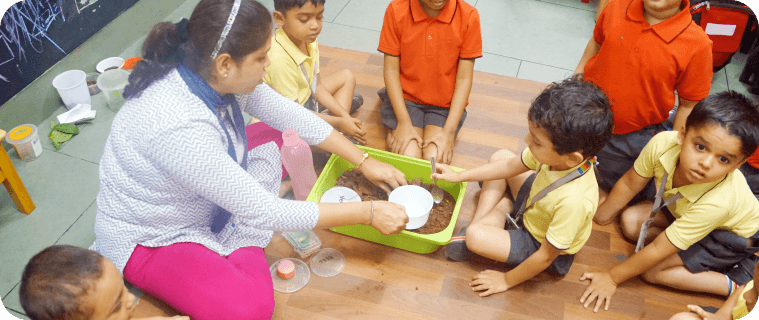 'My Green Space' project
At EFS, we strive to create an environment for our little explorers to quench their thirst of learning and exploring which is not just restricted to the classroom. Most of the unique experience comes from the lesson learned through nature. All knowledge is rooted in wonder, and what better place to cultivate wonder than in your own garden? As the saying goes "If you have a garden and a library, you have everything you need." 'My Green Space' is a gardening project that provides endless opportunities to the students for hands on environmental learning. Students not only plant seeds and watch them grow but learn how to take care of plants. They learn to make DIY gardening accessories and décor. And most importantly, they learn the value of patience, respect and responsibility.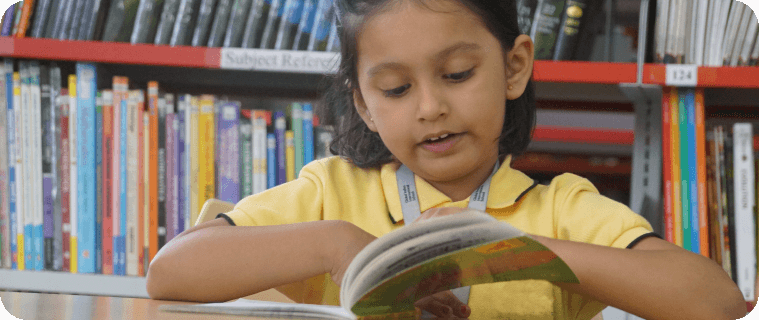 'Reading at home' program
Our reading program is a collaborative initiative with our EFS parents where we provide reading materials with different objectives for our parent child duo. It aims to encourage children to develop love for reading, improve their fluency in reading as well provide them with reading material related to theme of the month that helps to understand the topic better and build their vocabulary.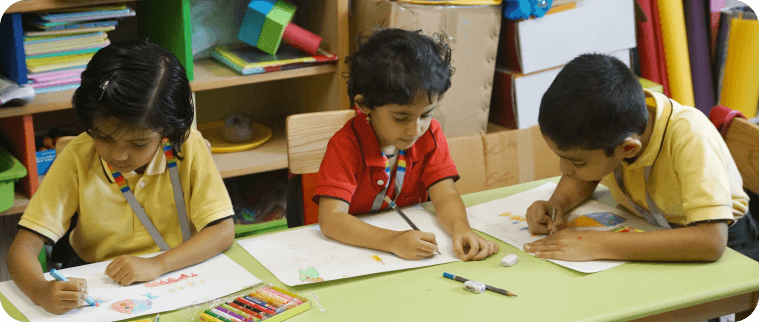 Brain Teasers
Our Brain Teasers sessions have different activities that helps develop logical mathematical intelligence, visual-spatial intelligence and encourages critical thinking and problem-solving skills. It's a blend of assisted and hand on activities like themed based puzzles, quizzes, patterns, sequencing, same and different, odd one out to name few of them. Pre-coding activities are also part of brain teasers introduces the students to the coding world through simple activities and screen free games like sequencing activities, spotting and create patterns, looping activities through rhymes, identifying errors in a picture, if and then games.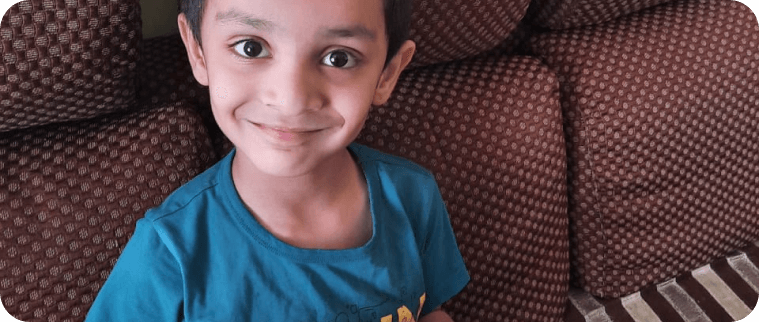 Culinary
Introducing cooking to children in early years is not just a fun activity, it's also great for teaching them some life-skills, boosting their confidence and even practicing some fine-motor skills. Even better, helping in the kitchen can entice even the fussiest of eaters to try something new and maybe they also learn about nutrition value of the food they eat. Our culinary program introduces our little chefs of EFS with these fun cooking activities like Healthy energy bars, Rajma apple salad, Tri-colour roti pizza and food art.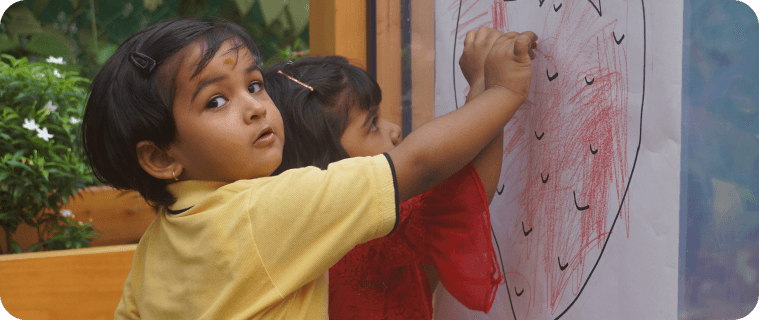 Art and craft
Art and craft activities are not only fun but are great for fine motor co-ordination, helps with pencil grip, hand co-ordination and develops child's creativity. It also boosts the child's confidence as the child takes pride in showing their creation. Our art and craft program includes activities that also develops child's pre-skill scissor cutting skills, help them learn different painting techniques using different material which involves all their sensorial abilities and evokes the artistic side of our students. Q-tip impression, balloon printing, sponge painting, scribble art, bubble painting, puppet making, paper crumpling, shapes craft are few examples.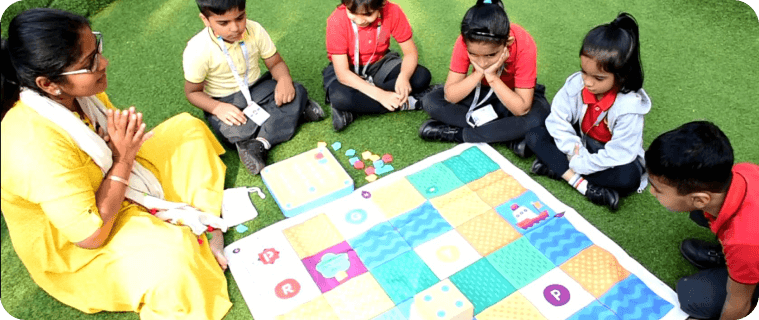 Engineering For Kids
Children are natural engineers. They love to design and build with almost anything they can get their hands on. Our Engineering for Kids includes simple activities which also includes concept of science, technology, and math. Our hands on activities help our children to explore, discover and to learn about how things work around them. It also gives them an opportunity to solve problems on their own. Few activities that kept our little inquisitive explorers and engineers busy are learning about the plants through seed germination activities, chlorophyll painting, learning about habitats by making Ocean Diorama, building bird houses, learning about water pollution through Water pollution experiment and Oil spill clean-up experiment.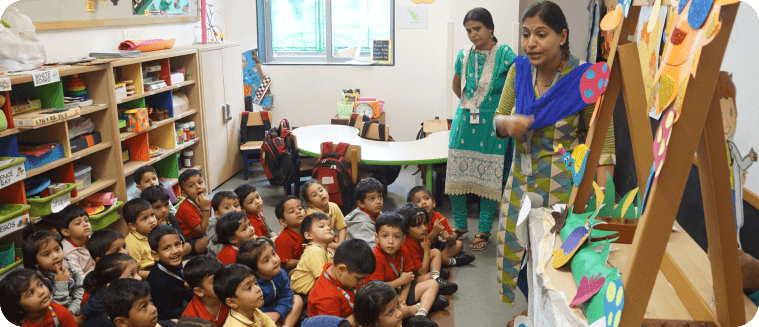 Communication Skills
This program aims to enhance the child's listening skills, verbal skills, comprehension skills and to build their confidence in speaking and expressing their thoughts in front of a group or audience through various well-planned and age-appropriate activities like:
Story telling
Read aloud session
Mystery Bag
Riddles
Show & Tell
Draw & Tell
Listen and follow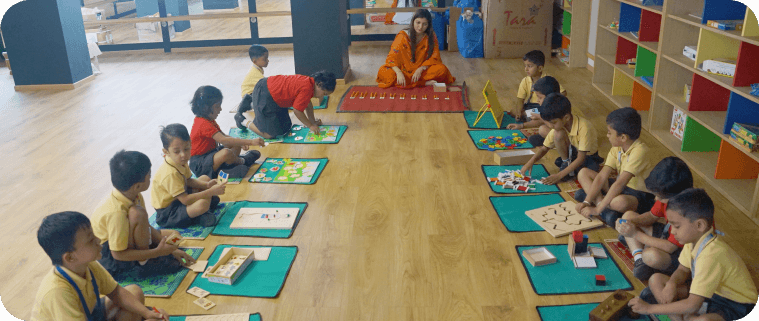 Montessori
Our Montessori activities are a blend of Practical life experiences, sensorial, language and mathematical development. For our virtual learning program, the activities that are planned for this program requires things that are easily available and used in every household. Sound bottles, watering the plants, dusting, greeting a person, table etiquette, DIY tasting and smelling bottles, sorting and counting spoons and forks are few examples.
Students at Cambridge Montessori Preschool enter formal schooling following national educational guidelines by teaching arithmetic, language, and environmental studies using modern and progressive Montessori materials.
Kindergarten is the culminating year of the preschool program. Every morning, kindergarten students continue to work on their lesson plans and socialize with younger classmates. Students in nursery, Kindergarten I & II enjoy the privileges that come with being the eldest and most experienced students in class.
A daycare centre that meets international standards. Don't worry about your kids anymore. Come to our homelike Post School Daycare Center. Children are like flowers.
To grow and become beautiful flowers, they need a lot of love, care and support.